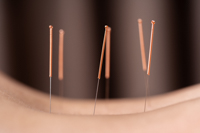 Acupuncture and herbs are effective for the treatment of diabetic peripheral neuropathy. From my decades of experience, I am confident to confirm that a millenia of research by Chinese Medicine scholars produces excellent clinical results for my patients.
Gansu Hospital of Traditional Chinese Medicine (endocrinology department) researchers conducted a controlled clinical trial comparing drug therapy with acupuncture and herbs. Patients receiving both acupuncture and herbal medicine had a total effective rate of 96.67%. Patients receiving Chinese herbal medicine monotherapy had a 73.33% total effective rate. Drug therapy patients had a 53.33% total effective rate for the alleviation of DPN (diabetic peripheral neuropathy). [1]
All patients were monitored throughout the investigation for adverse effects, including liver and renal function tests. No serious adverse effects were reported in any of the clinical trial groups, indicating a high degree of safety for all three treatment protocols. Outcome measures for the study included nerve conduction tests, TCM (traditional Chinese medicine) syndrome scores, and treatment efficacy rates.
Reference:
1. Wu Guannan, Meng Caizhou, Zhang Dinghua (2019) "Randomized controlled study of acupuncture combined with Taohong Siwu Decoction in the treatment of diabetic peripheral neuropathy" Journal of Gansu University of Chinese ​Medicine Vol. 36 (1) pp. 64-67.