Adam White, L.Ac., Dipl.Ac.
Licensed Acupuncturist and Herbalist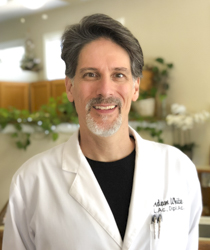 Adam White, L.Ac., Dipl.Ac. is a licensed acupuncturist and herbalist by the California Acupuncture Board (Medical Board of California). He is a Diplomate of Acupuncture with the National Certification Commission for Acupuncture and Oriental Medicine (NCCAOM). He is currently the research advisor for Five Branches University (Santa Cruz and San Jose), where he has also served as a faculty member of Chinese medicine.
Adam White, L.Ac., Dipl.Ac. is the CEO of the Healthcare Medicine Institute (HealthCMi), a leading provider of post-graduate educational materials and research for licensed acupuncturists. HealthCMi translates and publishes acupuncture CEU materials for licensed acupuncturists and is based in Santa Cruz.
Adam White, L.Ac., Dipl.Ac. hosts monthly webinars teaching licensed acupuncturists about acupuncture and herbal medicine for pain relief and internal medicine. His publications cover a variety of topics including Chinese medicine dietetics, musculoskeletal pain relief, pelvic inflammatory disorder (PID), and herbal medicine applications.
Adam White, L.Ac. remains committed to improving the health of every patient he treats. If a case is particularly rare and difficult, he takes the extra time and energy necessary to help his patients achieve optimum results. He is successful in the treatment of disorders such as acute and chronic pain, sinus congestion, allergies, interrupted sleep, headaches, carpal tunnel syndrome, and digestion disturbances. The joy of his practice is in the good health of his patients.
Click the following to listen my podcast from the HealthCMi research center: